The "Tuscan delights in two days" tour with Ferrari
The "Tuscan Delights in Two Days" tour aims to promote many hidden gems in Tuscany such as Pitigliano, Monteriggioni and Siena, with a beautiful two-day excursion, a refined 5 Star Hotel, amazing typical food, artistic treasures and the unique, breathtaking landscapes of this worldwide known region. This trip will be unforgettable also thanks to a professional video that will be made and to the impeccable services offered to all guests.
Are you ready to feel new special thrills? If the answer is yes, book the Tuscan delights in two days tour with Ferrari and have fun!
Day 1: Rome – Pitigliano – Castiglion del Bosco
The itinerary for this first full Ferrari/Lamborghini driving day starts with the Roman countryside heading to Tuscany. The main stop will be in Pitigliano, an enchanting little town positioned on a tufa rock. This charming place is known for hosting the "Little Jerusalem" quarter and for the historical presence of a Jewish community who has always been well integrated into Pitigliano's social context and who still has a Synagogue in the heart of the town. A guided tour will be followed by a typical Tuscan meal at Il Tufo Allegro restaurant. The trip will continue in the beautiful and sparsely populated Maremma Area (part of Southwestern Tuscany) and will end at Castiglion del Bosco, a stunning luxury hotel in the Tuscan countryside surrounded by the distinctive region's hills, sinuous white roads and vineyards. A wine tasting inside the estate will befollowed by a delicious dinner at the refined restaurant Campo Del Drago.
09.20 am: Briefing
09.30 am: Pick up cars and drive to Pitigliano (approx. 2 hour 30 min. drive – 135 km).
12.00 pm: Arrival in Pitigliano and one-hour visit with an English-speaking guide.
01.00 pm: Lunch at Il Tufo Allegro
02.30 pm: Departure from Pitigliano to Castiglion del Bosco (approx. 1 hour 50 min. drive – 87 km).
04.20 pm: Arrival at Castiglion del Bosco.
06.30 pm: Wine tasting at Castiglion del Bosco.
08.00 pm: Dinner at Campo Del Drago inside Castiglion del Bosco
Overnight: Castiglion del Bosco – 5 Stars
Total: Approx. 4 hour 20 min. drive – 222 Km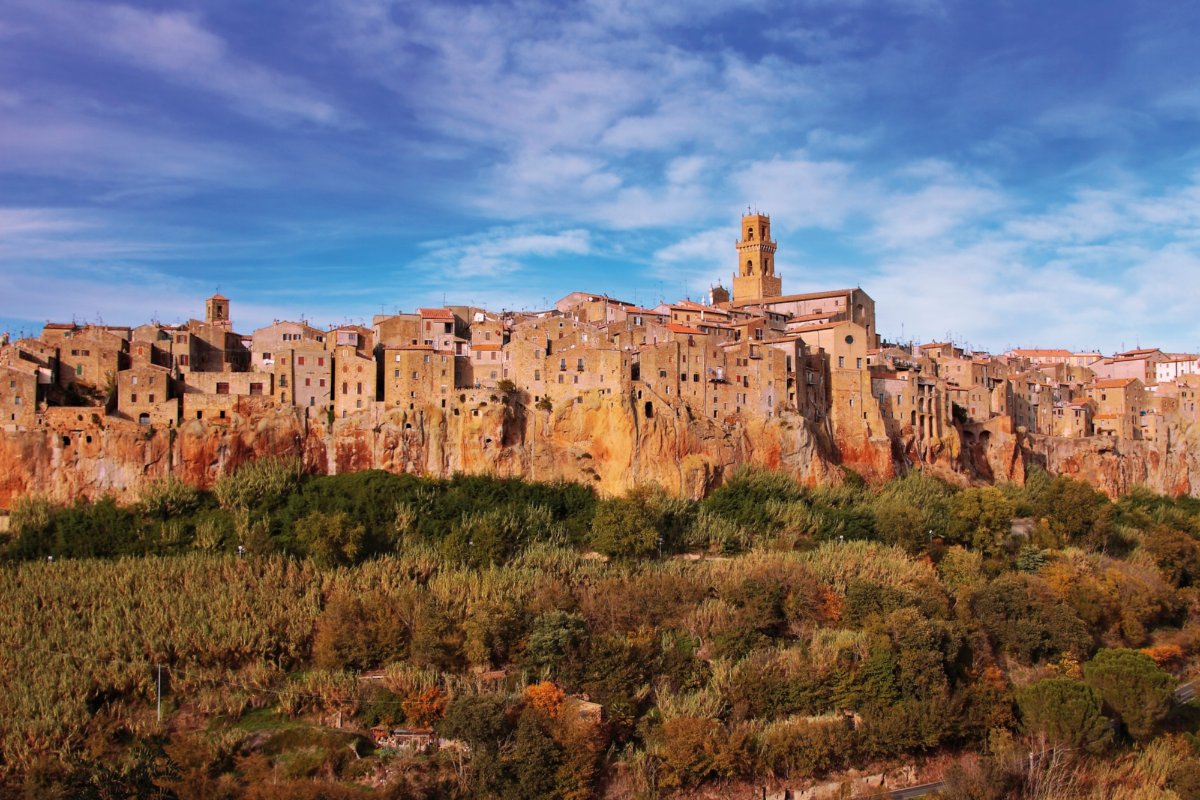 Day 2: Castiglion del Bosco – Monteriggioni – Siena –Rome
Our Tuscan tour will continue with a quick stop for a walk in Monteriggioni, one of the best preserved medieval walled towns in the world where time seems to have stopped centuries ago. After a short drive, guests will have a comprehensive guided visit of Siena: world-famous town for its art, museums, medieval cityscape, gastronomy and the Palio, a horserace held twice a year. A superb lunch at PorriOne will amaze all guests. The tour with the supercars will continue through the Val d'Orcia, an astonishing area that has been included in the list of UNESCO's World Cultural Landscapes. On the way to Rome, a quick stop to Orvieto is a must. This city is full of impressive monuments, churches and patrician buildings and the Duomo is an amazing masterpiece of Gothic and Romanesque architecture. On the last leg, an easy drive on the highway will lead the guests back to Rome.
09.00 am: Pick up cars and drive to Monteriggioni (approx. 1 hour 15 min. drive – 62 km).
10.15 am: Walk in Monteriggioni
10.45 pm: Departure from Monteriggioni to Siena (approx. 25 min. drive – 14 km).
11.10 am: Arrival in Siena and two-hour visit with an English-speaking guide
01.10 pm: Lunch at PorriOne
02.30 pm: Departure from Siena to Orvieto (approx. 2 hour 30 min. drive – 134 km).
05.00 pm: Walk in Orvieto
05.30 pm: Departure from Orvieto to Rome (approx. 1 hour 30 min. drive – 120 km).
07.00 pm: Arrival in Rome
Total: Approx. 5 hour 40 min. drive – 330 Km
Main Features & recap of included Services:
• Two-day road rally tour on the most exciting roads of Lazio and Tuscany.
• One-night accommodation in a double-bedroom with breakfast in a 5-star luxury hotel:
Castiglion del Bosco (Montalcino).
• Two-day access and use of the latest models of Ferrari (California T, 458 Italia and 488 GTB) and
Lamborghini Huracán with kasko car insurance for all cars (up to 560 km driving). Cars upon
availability. Speeding is at the driver's risk and possible tickets are covered by the driver.
• Tour Director and Staff with its own car in proportional number to the participants.
• Intensive Ferrari briefing and assistance along the whole trip.
• Highway toll, use of telepass, fuel and all the services related to the vehicles such as parking,
refueling and car-washing are included.
• Walkie-talkies (while driving: guests and staff are always connected through radio).
• Luggage transportation (max. four bags per super car).
• One-hour visit in Pitigliano with an English-speaking guide.
• Two-hour visit in Siena with an English-speaking guide.
• Professional video and photographic services: our guests will be provided, as a souvenir, with a
DVD with high-resolution videos and pictures of the whole journey
The program is indicative and may be modified at the discretion of the organization. The program can be adapted to the clients' wishes and can be subject to surcharge.
NOT included in the above-mentioned list: airfare/trains tickets, meals, everything not presented
as "included services". Note: Final price will be communicated after the hotel reservations.
On request:
• Ferrari 488 Spider, Ferrari GTC4 Lusso, Lamborghini Huracán Spyder and McLaren 650S.
The above mentioned conditions are valid until 31st of December 2018. However, for any further information feel free to contact us, we are at your disposal to make unique your tour!