Why Should I Rent A Porsche Or An Audi In Italy?
Our car rental company ensures an impeccable service and we have a large fleet of fantastic models.
We can deliver the car at the venue you decide so, in this way, you can start your journey in the maximum comfort. Our professional operator will explain to you all the vehicle's features and if you have any further questions or any particular requests, do not hesitate to ask. We are at your disposal.
In this article, we want to explain how funny could be to rent a Porsche or an Audi in Italy, speeding around on the car among beautiful cities and hills.
Our Porsche models:
We propose you two fantastic SUVs: the Porsche Macan and the Porsche Cayenne. The first, feels stunningly well engineered and is a delight to drive. This 4×4 is beautifully weighted and its main highlight is the 2.0 liter (1984cc) 14 turbo v6 engine with a top speed of 156 mph, It has a horsepower of 340 at 5,500 rpm and a maximum torque of 339 at 1,450 rpm. We rent it at 250 Euros per day.
The second, it's comfortable for four adults, and the rear seats slide back and forth on runners so you can enlarge the boot when smaller children are sitting in the back.The S E-Hybrid plug-in electric Cayenne has the same size boot as petrol and diesel models, but does not come with a spare wheel.We rent it at 350 Euros per day.
Then we have the Porsche Boxter 718, one of the most successful and controversial sports cars to hit the market recently.
The new 718 is fitted with the latest generation of the company's PCM infotainment system, running through a seven-inch touchscreen display. The new PCM system's user interface, functionality, and responsiveness are significant improvements over the outgoing version. We rent it at 400 Euros per day.
We have also the fantastic Porsche 911 4s, a fantastic vehicle you can drive throughout the year. The compact exterior design speak for itself, and were used aluminium and magnesium in many different areas in order to reduce the overall weight and, as a result, the fuel consumption. It has 420 hp and goes from 0 to 100 km/h in 4.2 seconds. We rent it at 750 Euros per day.
Finally we propose you two amazing models: the Porsche Panamera 4s and the Porsche 911 GT3. The first, will give you strong emotions: with its 440 hp goes from 0 to 100 km/h in 4.4 seconds. The new exterior design is very elegant and the interior was completely restyled: from the centre console to the dashboard. Moreover, there is a lot of space inside the car, so comfort is ensured. We rent it at 800 Euros per day.
The second, has 500 hp and it goes from 0 to 100 km/h in 3.4 seconds. This car has a very imposing appearance, a unique desing and it seems to be always ready to pounce.We rent it at 800 Euros per day.

Our Audi models:
Let's start another car list by mentioning a great SUV: the Audi Q7. It is a striking mid-size crossover SUV with a special and elegant exterior design which makes it a car you can use in every situation. Internally it has a lot of space so it can be useful for families and groups(there are seats for seven people). Thanks to the 3.0 TDI engine the SUV accelerates at an impressive 6.3 seconds from 0 to 100 km/h. We rent it at 350 Euros per day.

Then we propose you two models: the Audi RS3 and the Audi RS6 Avant. The first, with its five-cylinder turbo engine now uprated to a shade under 400bhp, reclaims its title as the most powerful hot hatch on sale as well as becoming the most powerful small saloon on the market. We rent it at 300 Euros per day.
The second, has the TFSI 4.0 liter V8 engine power which has increased to 445 kW (605 hp) from 33 kW (45 hp). Four of the engines can be deactivated, when required, without any noticeable difference, except the noticeable difference in fuel consumption. We rent it at 500 Euros per day.
Finally, we propose you the Audi R8 Spyder. It featured an uneven firing 5.2 liters FSI v10 engine with an excellent performance of 518 bhp. It accelerates 0-60 mph in about 4.1 seconds.It has a fully automated top, which makes it possible for it to go up, or down in 19 seconds to a speed of 31 mph and it is compatible to work at temperatures as low as 5 degrees. We rent it at 400 Euros per day.
So…Why you should rent a Porsche or an Audi in Italy?
The answer to that question is very simple: you should rent a Porsche or an Audi in Italy not only because you can test your driving ability on board these amazing vehicles abovementioned,  but also because driving among beautiful cities and landscapes is something you won't forget.
If you are planning a road trip throughout Italy, you need to be prepared. From history to modern art, from high-class shopping to artisans' productions… you will experience an impressive driving journey.
Imagine to speed around the hills of the Tuscany region: absorbed by the green of the Chianti region and the hills around Siena.Theese roads offer incredible views of the Italian countryside. Tuscany, the birthplace of the Italian Renaissance, is conventionally a famous destination for many tourists and has also a lot of hidden treasures and specialty products (such as steak and wine).
Then you can drive until you get to the Amalfi coast, one of the top tourist destination in Italy. All the towns of Amalfi Coast were declared by UNESCO as "World Heritage Site". These towns are connected by the SS.163 road, built during the Bourbon period, and it is still considere one of the most beautiful road in Italy. So imagine to visit all the towns of the Amalfi coast while enjoying the astonishing panorama… what a wonderful experience! It can be better especially during the summer days so you can have a swim in the amazing beaches of Capri, Sorrento and many others.
Otherwise, if you are looking for a relaxing and peaceful place to stay, the Lake Como is only 56 km drive from Milan Malpensa, and offers some of the best luxury hotels in the world, like Villa D'Este in Cernobbio, a XVI century Resort, wth 3 luxury restaurants, a pool by the lake and 8 tennis fields. Nothing's better than drive around theese stunning roads with unique views.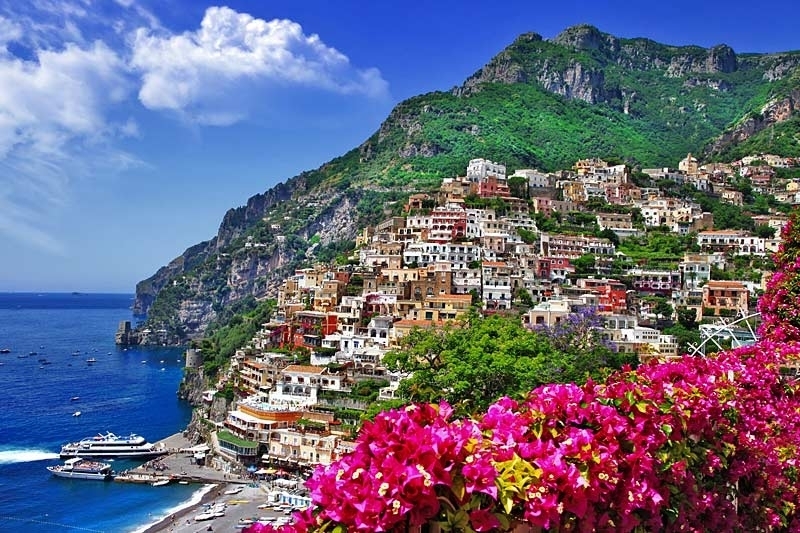 For any further information feel free to contact us. You can reach us via phone, via mail or via Whatsapp.