Why should I rent a Lamborghini Huracan Performante Spyder in Marseille?
Italy Luxury Car Hire is very proud to propose you this fantastic Lamborghini model, with its 640 hp will give you strong emotions.
Summer is coming and a fantastic idea to spend your summer days is to rent a Lamborghini Huracan Performante Spyder in Marseille.
We ensure an impeccable service because all of our services are exclusived aimed to the well-being of our special clients. Indeed, we can deliver the exotic car wherever is more comfortable for you so you can start your journey in the maximum comfort. Our professional operator will explain to you in detail all the vehicle's features and some useful advice on how to drive it. Obviously, if you have any further questions or any particular requests, do not hesitate to ask. We are at your disposal.
Brief in-depth information on the supercar:
The Lamborghini Huracan Performante Spyder has 640 hp, a maximum speed of 325 km/h and it goes from 0 to 100 km/h in 3.1 seconds. So special and strong emotions are ensured! Beauty is combined with power and performance: its exterior design and aereodynamics are developed with passion and care. Passion and care were used also for the interior of the vehicle: where you will find elegance and maximum comfort. Furthermore, there is the ALA (Aerodinamica Lamborghini Attiva) which is an intelligent system that manages aerodynamics, in fact, it can promote stability and reduces aerodynamics resistence in order to reach top speed.
This amazing supercar has a V10 engine, "completely updated and redesigned, with fluid-dynamics optimized at both intake and exhaust, this engine is the aspirated V10 with the highest specific power. The new intake ducts come directly from Lamborghini Motorsport's experience and improve response at all speeds. The double clutch transmission (LDF) has been further perfected and now is able to support even the highest performance. All of this is captured by the even more vibrant and thrilling sound of the new lightened exhaust system." said Automobili Lamborghini on its official website.
We rent it at 1,500 Euros per day.
What's in Marseille interesting to see?
At the time, on the Mediterranean coast, Marseille is the France's largest city and an important hub for commerce, cruise ships and freight due to the port. "The port is also an important arrival base for millions of people each year, with 2.4 million including 890,100 from cruise ships. With its beaches, history, architecture and culture (24 museums and 42 theatres), Marseille is one of the most visited cities in France, with 4.1 million visitors in 2012.Marseille is ranked 86th in the world for business tourism and events, advancing from the 150th spot one year before. The number of congress days hosted on its territory increased from 109,000 in 1996 to almost 300,000 in 2011.They take place in three main sites, the Palais du Pharo, Palais des Congrès et des Expositions (Parc Chanot) and World Trade Center. In 2012 Marseille hosted the World Water Forum. Several urban projects have been developed to make Marseille attractive. Thus new parks, museums, public spaces and real estate projects aim to improve the city's quality of life (Parc du 26e Centenaire, Old Port of Marseille, numerous places in Euroméditerranée) to attract firms and people. Marseille municipality acts to develop Marseille as a regional nexus for entertainment in the south of France with high concentration of museums, cinemas, theatres, clubs, bars, restaurants, fashion shops, hotels, and art galleries." said Wikipedia on its website.

Which are the best restaurants to go?
We are well aware that the french cuisine is known throughout the world. In Marseille you can find good restaurants such as "Une table au Sud" . Here you can taste a creative cuisine and the restaurant awarded a star in the famous Michelin guide, making the Chef Ludovic Turac (27 years old) the youngest starred chef in 2015. Fresh local products are served every day: the fish is chosen every morning in the Old Port, the vegetables come from Provence and the meat come from the Southern Alps.
Then you can find other good restaurants in the "Sofitel Marseille Vieux Port", here "in both the Trois Forts restaurant and the Le Carré Bistromanie brasserie, our Chef Dominique Frérard proposes gourmet dishes made up of succulent ingredients carefully selected from both land and sea. For a relaxing drink select a cosy armchair, admire the stunning view and let our Le Dantès Skylounge barmen do the rest." said the official website.

Which are the best luxury hotels to sojourn?
One beautiful five star luxury hotel is "Hotel La Residence du Vieux Port" . Arnaut Payet, the managing director, said : "for more than 60 years, the Hôtel La Résidence du Vieux-Port**** has been bathed in Marseille sunlight, nested on the old port and facing Notre Dame de la Garde Basilica.Perfectly situated on Marseille old port, with its great sunlight, The Hôtel La Résidence du Vieux-Port will transport you back to the artistic and glamorous 1950s while its restaurant Relais 50 will let you experience the most traditional and innovative French gastronomy".
Another fantastic five star luxury hotel is the "Intercontinental Marseille-Hotel Dieu". It is very sophisticated and inside you can find a spa where you can relax yourself. "The epitome of luxury, this grand hotel occupies a striking building adjacent to Marseille's historic Panier district. You can enjoy a pastis aperitif on the terrace with views of Notre Dame de la Garde Basilica, before dining on Mediterranean dishes in the Michelin-starred Alcyone restaurant" said the official website.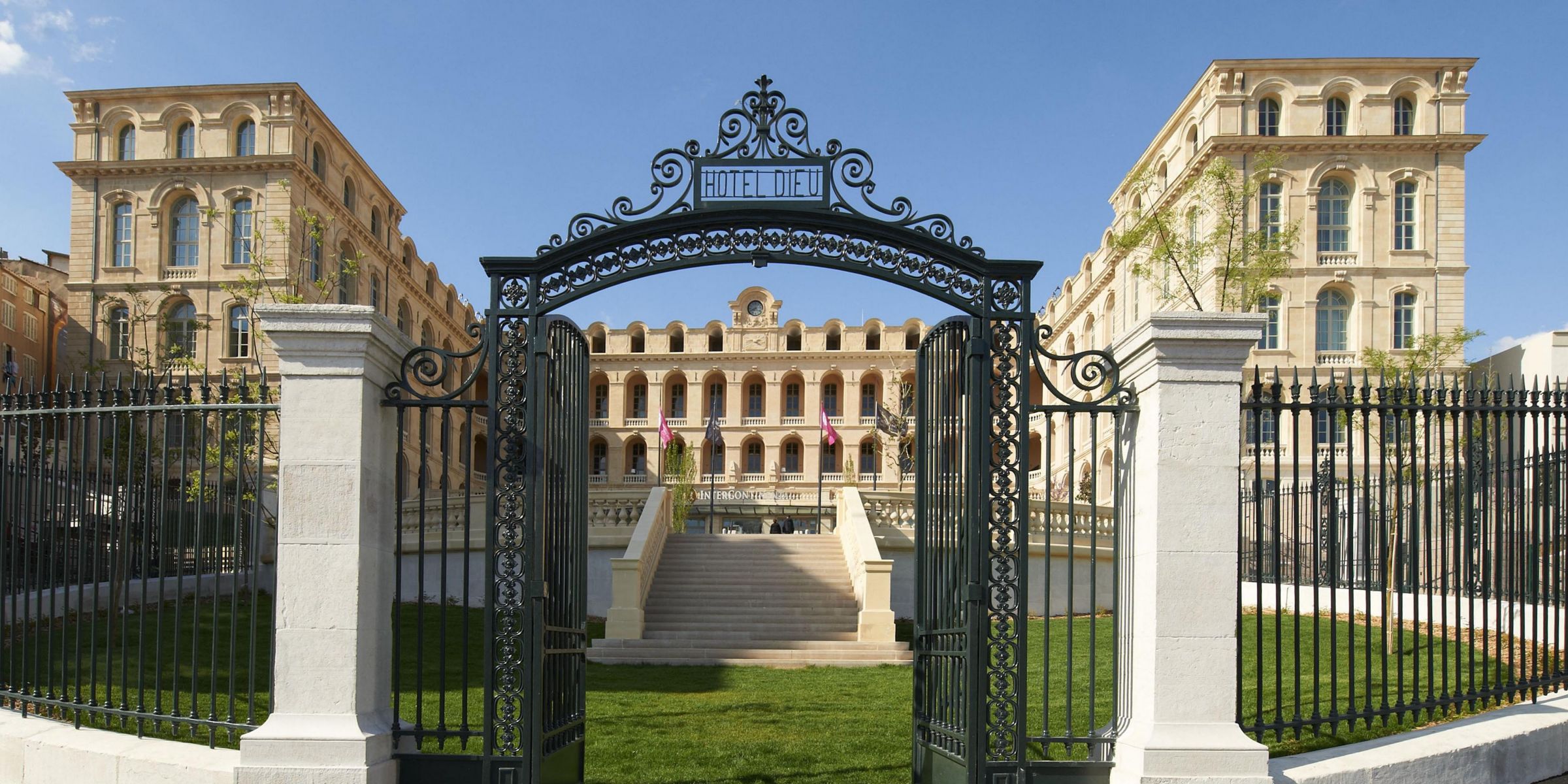 What are you waiting for? Rent a Lamborghini Huracan Performante Spyder in Marseille and have fun!
For any further information feel free to contact us. You can reach us via mail, via phone or via Whatsapp.