Rent a Ferrari in Gargano, a heavenly place
Italy Luxury Car Hire is proud to have a wide range of Ferrari models, so after choosing your favorite one, you can enjoy more your holidays in Gargano.
We ensure an impeccable service, in fact, we assist you in the rental process step by step: we deliver your supercar wherever is more comfortable for you and our professional operator will explain all the features of the vehicle in detail. If you have any further questions or any particular requests, do not hesitate to ask. You can reach us on the phone or on the mail.
What are you waiting for? Rent a Ferrari in Gargano and discover this heavenly place in Southern Italy!
In-depth information box:
'Scuderia Ferrari', was founded in 1929 by Enzo Ferrari before engaging into the construction of street-legal cars as 'Ferrari S.p.A' in 1947.
Anyway,'Scuderia Ferrari' has continuously partecipated in various classes of motorsport, even if today it is only offically involved in Formula One.
After a brief historic reference to Ferrari, we can say in addition that it is not only the most glorious italian symbol of wealth and exclusivity but it is also celebrated in the whole world as one of the most prestigious luxury brand ever made. By driving a Ferrari you will feel a fantastic thrill simply from the moment you press the startup button and listen to the sound of the engine.
Our Ferrari models:
We have a wide range of Ferrari models in order to satisfy all kinds of requests.
Let's star by mentioning the amazing Ferrari California Turbo, an update of the earlier model. With new sheet metal, better interior, revised chassis and a newer turbocharged powertrain. It is designed as a daily use car with an easy manual and even a cup-holder. The California Turbo has a top speed of 315km / h (193 mph), and it accelerates from 0-100 km / h in 3.6 seconds. We rent it at 700 Euros per day.
Then we propose the beautiful Ferrari Portofino, which is equipped with an all-new front-engined, rear drive chassis, a new electric power steering plus a third generation electronic differential. The Portofino's engine is a totally revised version of the California T's 3.9-litre, twin-turbo, 90 degree V8. It produces 591bhp at 7500rpm and 560lb-ft between 3000-5250rpm and emits 245g/km. It can extraordinarily hit 62mph from rest in a mere 3.5sec. Zero to 124mph (200kmh) takes 10.8sec, so although it is a exploitable Ferrari, it is also an extremely fast one. We rent it at 800 Euros per day.
To follow there is the powerful Ferrari 458 Spider,  a car with an effortless marriage of technology, design, and beauty. Ferrari 458 Spider was first premiered at Frankfurt Motor Show in 2011. It is a convertible variant of Ferrari 458 Italia. It is also the first car ever to have a combine mid-rear engine and a retractable folding top which weighs 35 kilograms. The engine cover has been designed in such a way that it accommodates the retractable rooftop. The design of the Ferrari 458 spider gives not just a very sporty look, but also adds power to your weekend trips a deux.
Then we have theFerrari 488 Spider, the latest car designed by Maranello's collection of the V8 sports car. The 488 Spider has a fully convertible version of the spider architecture.The Spider has set the new technological benchmark for the entire automobile sector. At the heart of the Spider is a 3902cc turbo charged V8 engine which has also set a technological benchmark for the V8 design. The power unit is the highest performing engine with zero turbo lag and an exhilarating sound. The maximum power of the 488 Spider is 670 CV, and it has a smooth progressive torque delivery. With high gears the spider has fantastic performance figures, it sprints 0-100km/h in just 3 seconds, and it goes 0-200km/h in a flat 8.7 seconds.
We rent it at 1,000 Euros per day.
Another luxurious and elegant model is theFerrari GTC4 Lusso.
This exotic car is the evolution of Ferrari FF. A Ferrari for people with children, apparently. Rich, spoiled children who get to go skiing a lot. A job of beautification has been done on the exterior, which is a big step forward from the FF. It really looks elegantly powerful from most angles, and classically Ferrari from behind or dead-on in front. Only from the rear three-quarter are you really struck by its shooting brake dimensions; at 4.9m long and just over 2m wide at the mirrors, it's a monster, and it also weighs an SUV-like 1920kg.Shifting all that pricey metal and leather is a doddle, of course, for the naturally aspirated and gloriously tuneful 6.2-litre V12, which delivers a coccyx-clattering 507kW and a slightly less impressive 697Nm, 80 per cent of which is on tap from 1750rpm. We rent it at 1,300 Euros per day.
To follow, we propose you the fantastic Ferrari F12 Berlinetta, which  is the replacement for the 599 GTB and with its 730hp engine is by far Ferrari's fastest road car to date. All that horse power comes from the 6.3-litre, V12 front mounted engine that can reach a top speed of over 210 mph and is channelled through to the wheels via a seven-speed dual-clutch gearbox.
The F12 has an aluminium shell, with panels sculpted according to Ferrari's unique 'aerodynamics via subtraction' philosophy. Scaglietti, who built the F12's monocoque under-body used 12 different aluminium alloys to enhance torsional rigidity (increased by 20 per cent) whilst keeping the overall weight down to a very respectable total of 1525kg. We rent it at 1,400 Euros per day.
Lastly, we are proud to propose you the amazing Ferrari 812 Superfast.
This car ensured to be faster than the F12 model, thanks to its output boosted to 800 cv(60 more than the F12). But the 812 superfast's model is not only faster than the F12, it is also 60kg lighter and for that reason it guarantees a significant performance. Other engine's technical data : maximum power 588 KW (800cv), acceleration 2.9 sec (0-100 km/h), weight/power 1,9 Kg. So, as is obvious, its V12 engine is-today-the most potent type (non-hybrid) ever built. We rent it at 1,600 Euros per day.
What's in Gargano to see?
Gargano is a renowned sub-region in the province of Foggia, located in southeast Italy. This famous historical sub-region consists-according to Wikipedia-"of a wide isolated mountain massif made of highland and several peaks and forming the backbone of the Gargano Promontory projecting into the Adriatic Sea, the "spur" on the Italian "boot". The high point is Monte Calvo at 1,065 m (3,494 ft). Most of the upland area, about 1,200 km2 , is part of the Gargano National Park, founded in 1991. It is within the Italian Province of Foggia. The Gargano peninsula is partly covered by the remains of an ancient forest, Foresta Umbra, the only remaining part in Italy of the ancient oak and beech forest that once covered much of Central Europe as well as the Apennine deciduous montane forest biome. The coast of Gargano houses numerous beaches and tourist facilities, including resorts such as Vieste, Peschici and Mattinata. The two major salt lakes of Lesina and Varano are located in the northern part of the peninsula. Monte Gargano is the site of the oldest shrine in Western Europe dedicated to the archangel Michael, Monte Sant'Angelo sul Gargano. Other tourist attractions include the cathedral, the episcopal palace, the Abbey of Santa Maria of Ripalta and the volcanic rocks dating back to the Triassic Period, known as "Black Stones", as well as the Sanctuary of San Nazario."
A particular trip:
If you are planning your holidays in Gargano, you can't miss the location's flagship: Rignano Garganico, a small village of 2,033 inhabitants located on the top of a hill. Rignano Garganico, became part of the Gargano National Park in 2004, and it is the smallest municipality of the promontory. As abovementioned, it stands on the top of a hill, from which you can enjoy a broad view of the "Tavoliere delle Puglie": this is why the town is nicknamed the "Balcony of Puglia". On clear days the view ranges from Bari to Mount Vulture, up to the tops of the "Subappennino dauno" with the often snow-covered Maiella. Rignano Garganico is part of the Mountain Community of the Gargano, a special place where you can relax yourself from the chaos of the city.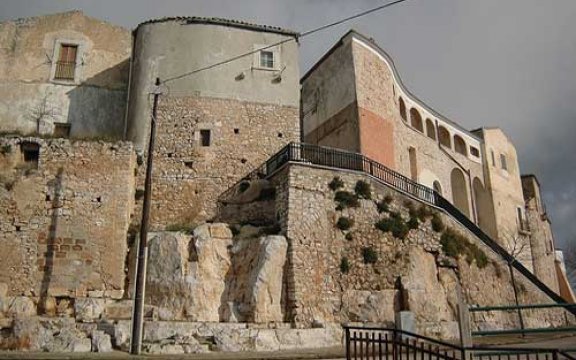 For any further information feel free to contact us!