Bentley Continental GTC
This new convertible car is based on the Continental GT. Read the article below to know more information about it!
Few other cars embody the spirit of touring like the Bentley Continental GT: 485 cm long, the impressive four-seater coupe combines the comfort of a flagship with the gritty style of a sports car. To these qualities will be added the pleasure of driving with the wind in your hair, because the Continental GT will be launched in a few months even in the variant with the hood foldable electrically, which comes into operation up to the speed of 50 km / h and needs 19 seconds to open or close. The hood of the new Bentley Continental GTC can be ordered in seven colors, but the unmissable can even ask for the tweed fabric lining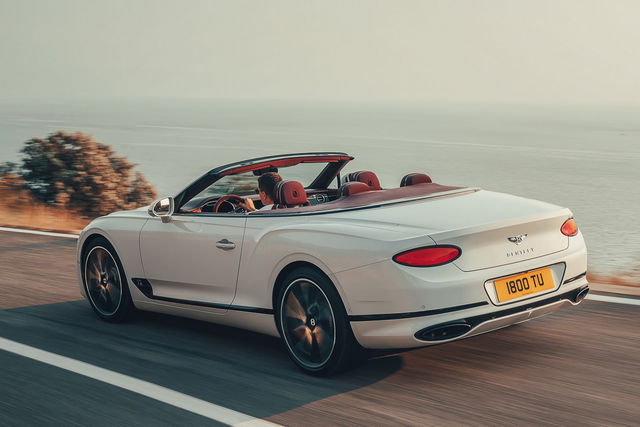 The manufacturer has worked to make the Bentley Continental GTC a car for all seasons, even cold ones, offering seats and heated steering wheel and even the vents that blow warm air into the headrests, so as to warm the neck when you want to drive to the hood lowered even with the cold. After all it would be a shame not to enjoy a car of this kind in autumn or winter, even more so considering that the hood has been revised to improve the soundproofing: according to what was declared, the noise on board is in line with the old generation of the Continental GT coupé. As usual for the Bentley it is possible to "indulge" with the customizations, so much so that there are seventy paints available for the body, fifteen fabrics for the mats and eight materials for the interior.
The first switchable engine for the Bentley Continental GTC will be the well-known supercharged 12-cylinder 6.0-liter engine, which reaches a power of 635 bhp and is combined with an unprecedented 8-speed dual clutch transmission. The Bentley speaks of a 0-100 km / h acceleration in 3.8 seconds and a top speed of 333 km / h. In spite of these numbers, however, the Continental GTC should be driven in souplesse, because it reaches the weight of 2,422 kg, despite the work of lightening compared to the old generation. To improve the driving behavior, permanent all-wheel drive and Bentley Dynamic Ride system are provided, which moves actuators on the anti-roll bar and changes the car's responses according to the Comfort, Bentley (customizable) or Sport modes, depending on that we want to favor comfort or ease of handling. The system relies on an additional 48-volt power grid, which runs alongside a 12-volt power supply for on-board services.